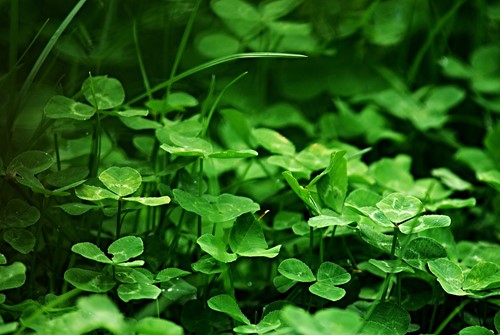 If you're considering replacing your lawn with something more sustainable and low-maintenance, there are many options to choose from. Many homeowners hesitate to get rid of their lawn because they will miss the softness and lush green color of grass. Luckily, there are lots of alternatives that can satisfy that same aesthetic demand while still saving you time and money. Here we'll go over some of the best green (literally) alternatives for your lawn:
Clover
Clover and micro-clover make for an extremely lush and affordable lawn alternative. Clover processes and releases nitrogen back into the soil which not only improves its chemical composition but effectively fertilizes itself. You'll never need to add fertilizer and it can grow healthy in any quality of soil. Clover is drought tolerant, meaning it can stay green all year with a fraction of the water a grass lawn would need. Dog owners will love clover's resistance to urine spots, as well. There is very little that can discourage a clover lawn, making it one of the most cost and labor-efficient lawn alternatives available.
Moss
For another evergreen and low-maintenance grass alternative, try moss. Moss is incredibly easy to establish, and though it stays very low, it spreads quickly over large areas after simple initial planting. Moss will create a velvety but tough carpet over the ground that will stay green in the driest of summers. There's no mowing or fertilizing required and there are lots of varieties to choose from. If you want a particular shade of green you can select from many varieties or even plant a mixture for a wilder natural look. The only real downside of a moss lawn is that it prefers the shade. If your yard is in full sun all year round, moss will struggle against the strong UV rays.
Artificial Turf
Artificial turf has improved drastically the last few decades. It used to be that the term artificial turf meant fake-looking, crunchy and cheap. Modern artificial turf is far more lifelike and even more resilient than its earlier incarnations. The biggest advantage of artificial turf is the durability. There's a good reason sports team organizations around the world love using turf—it can take a beating! If your lawn is a regular spot for sports or other play, artificial turf won't let you down in terms of damage control. It's also practically zero maintenance compared to other lawn alternatives, except for any raking of leaves you might need to do.
Artificial turf, while it has made tremendous improvements, still has some major disadvantages. It's incredibly expensive, averaging around $20 per square foot. This makes it a huge investment for those with larger outdoor spaces to cover. Drainage is another issue that some homeowners find with artificial turf, especially in wetter climates. If the soil underneath the turf has poor drainage, you might end up with problems in the future. Many choose to install additional drainage underneath the lawn to mitigate this, which of course adds another upfront expense.
These are just a few of the options if you want something green to replace your grass lawn. There is a wide variety of ground covering plants you can use as well as other options like ornamental grasses or creating garden beds. It's a good idea to consult local landscaping professionals who know the climate and soil where you live, as they can help you gather information to aide your decision-making.